Bruno BANON

Parcours, actualités, projets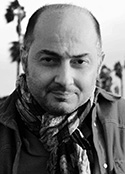 Bruno is French-born, but moved to the US in his late teens. He completed degree studies at Pitzer University in California before embarking on a career in theatre as both a stage actor and director, first in Los Angeles and then later in New York City.
His long list of acting credits includes roles alongside Morgan Freeman in The Taming Of The Shrew at Shakespeare In The Park and with Al Pacino in Chinese Coffee at The Ensemble Studio Theater (both in New York City).
As a director he oversaw highly regarded productions of The Seagull, The Actor's Nightmare, Subway Serenade, Luv and The Real Life in theatres in Los Angeles and New York City.
In parallel, Bruno has worked extensively as a coach and instructor to business clients, applying the skills and methodologies developed in the theatre to the challenges faced by international executives in critical areas like public speaking, communication, team dynamics and conflict management. Among his blue-chip client references are L'Oréal, The Walt Disney Company and Bethlehem Steel Corporation.
After more than 20 years living and working in the United States, Bruno returned to his native Paris in 2006. He has been working there as both a director and consultant ever since, where his projects have included founding and co-directing the Atelier Jeu Libre, a professional actors' training facility.
Mises en scènes, rôles
Mises en scène, notamment :
2017
«CHINCHILA » de Emmanuel ROBERT-ESPALIEU au théâtre des Feux de la Rampe en juin 2017, reprise en septembre 2017
2016
«LUV » de Murray SCHISGAL au Théâtre les feux de la rampe en mai 2016. Spectacle en anglais